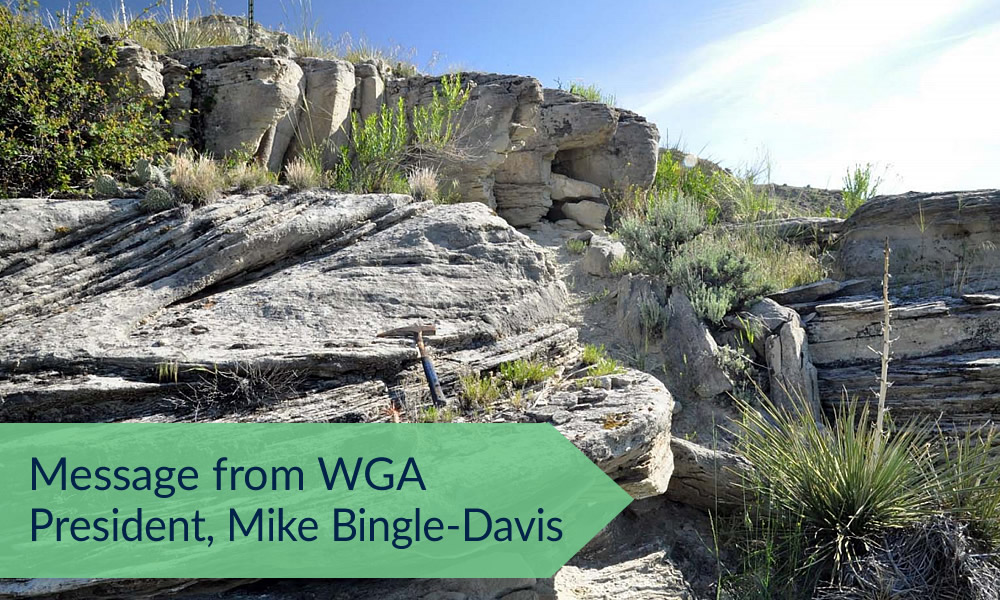 PRESIDENT'S LETTER - July 2021
Welcome to July! Time for BBQs, fireworks, and plenty of outdoor fun; keep sunscreen and bug spray handy!
On July 4th we celebrate our independence from Great Britain; the Declaration of Independence was dated July 4, 1776, but it was actually voted upon in congress two days prior on July 2nd and wasn't signed by all members of congress until August 2nd, 17761. So, I suppose it is fair to say, sometimes you're early and sometimes you're late, but better late than never still holds true!
The WGA board set out many goals this year and are making great progress in accomplishing them. We wanted to get in-person luncheons and events started back up, get more students and new members involved, and get the office and board of directors more organized. WGA donated 15 rock hammers to UW Field Camp students on June 11th and so far, have gotten 5 students to join the organization! WGA also helped with the Annual Gene George Golf Tournament on June 18th, and I would like to thank the committee and volunteers for their hard work and making it a great success! As for organization in operations, it will an ongoing task, but things are continually becoming better understood and resolved.
On July 9th, we will hold our first luncheon and talk at Occasions by Cory since last year. I hope to see many of you face-to-face again soon, and please feel free to bring guests!
Don't forget to join us for the Pioneer Picnic on Friday, July 16th, in the Cottonwood shelter at Alcova for a geology talk, picnic lunch and award ceremony!
Fun Fact!
According to American Pyrotechnics Association, Americans spend over $1 billion on fireworks each year!!
Take it easy,
Emily Erz, WGA President, 2021